Taking the Boardroom to the Metaverse Battlefield

Steven L. Ossad is a biographer, independent historian, retired Wall Street technology analyst, and 'writer for hire' focused on leadership, command, and applying historical insights for private company values-based philanthropy, governance, and succession planning. He grew up in a New Jersey suburb surrounded by returned citizen soldiers, sailors, and marines of World War II. He listened to their stories and developed a lifelong interest in American military history. After a number of boyhood experiences when he learned about a long-forgotten hero, Steve became "Citizen Historian" of the 3rd Armored "Spearhead" Division Association. Under their auspices Steve co-authored a biography of their wartime commander. Major General Maurice Rose: World War II's Greatest Forgotten Commander, (Taylor Trade Publishing, 2003), tells the story of that boyhood hero, one of the greatest warriors who ever served our country.
Focusing on unknown, or under-studied, heroes and battles, inspiring leadership models, and the lessons of command failure, Steve as the recipient of the 2018 Society For Military History Distinguished Book Award, 2014 Army War College General and Mrs Matthew Ridgway Research Award, as well as a 2003 Historical Foundation Distinguished Writing Award for his article, "Command Failures: Lessons Learned from Lloyd R. Fredendall," (Army Magazine, March 2003). His work on COL David 'Mickey' Marcus led to that officer's recognition as a Distinguished Member of the US Army Civil Affairs Regiment. Steve's work has also appeared in Army History, World War II Magazine, WWII History, Military Heritage, Military History, America's Civil War, Global War Studies, and Army Magazine.
For more than two decades, Steve worked as a sell-side technology equity analyst on Wall Street before establishing a second career as a military historian and consultant. He followed Computer Disk Drives & Peripherals, Electronic Manufacturing Services and Business Process Outsourcing, and participated as lead analyst in many of the most important IPO's of the 1980's and 1990's. Some of them, Seagate, Apple, Dell, are now giants. During his time on Wall Street, Steve worked with many legendary entrepreneurs, corporate managers, analysts, bankers, venture capitalists and investors responsible for our mobile and social media culture, and continually evaluated them against history's great battlefield commanders.
He holds a BA with Honors in Philosophy from Wesleyan University, an MA degree in the History of Political Philosophy from the New School for Social Research, and an MBA from Harvard Business School.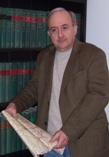 Ed grew up in western Kentucky, near Ft. Campbell, home of the 101st Airborne. His father served in the Army Air Forces in World War II; his uncle, who enlisted in the pre-war cavalry, was killed in action in Italy. Another member of his family received a posthumous Silver Star for heroism in Normandy and yet another was a rifle battalion executive officer in the Southwest Pacific Area of operations.

A Department of the Army-designated Military Historian, Ed served on active duty from 1980 until 2000. This included over six years in Germany and eight years on a variety of assignments on both the Department of the Army Staff and the Army Secretariat staff at the Pentagon.
As a developer of 'staff ride' experiential leader training programs, he has taken hundreds of officers and veterans on journeys that cover both historical events and their application to real-world leadership challenges. The goal is to put students/​clients on the same ground consecrated by the blood of hero and common soldier alike. He knows the Army's European battlefields in depth, and how decisions affected team and unit performance.

Ed holds a BA degree in history and a master's degree in public administration from Western Kentucky University. He is a graduate of the U.S. Army Command and General Staff College, and his other military education includes the Army's Armor and Ordnance Schools; U.S. Naval War College course in National Strategy and Policy, and a seminar in Revolutionary Warfare at the U.S. Air Force Special Operations School. In 2009, the Governor of the Commonwealth of Kentucky appointed Ed as a voting member of the Kentucky Historic Preservation Review Board. He is a Certified Knowledge Manager (CKM).

His current research interests include U.S. Army and Navy industrial management, production, and logistics during WWII as they related to battlefield performance and results under fire.
Last Update: January 14, 2022