Corporate Staff Ride NEWSLETTER - Univ of Scranton ROTC Goes to Saratoga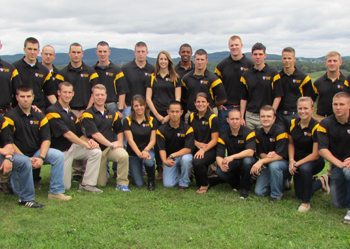 October 19, 2013
Twenty six Military Science Level IV Cadets, along with five Cadre members from the Royal Warrior Battalion took part on 13-14 September 2013 in the program's Staff Ride to the Saratoga National Battlefield, the site of one of the key battles which turned the tide in the American Revolution.
The Military Staff Ride is a tool designed to help Cadets and Officers gain insight into a specific battle or conflict in order to come away with a better understanding of military history, tactics, terrain analysis, leadership, as well as mission command. A firm understanding of these areas is vital, as they play into an officer's ability to plan, execute and assess training and missions. The Army views the staff ride as a means of conveying the lessons of the past to present day Army leadership for current application. The Staff Ride is also a pre-commissioning requirement all Cadets are required to complete prior to becoming a commissioned officer.
"As MS IV's, we all look forward to the staff ride as it presents us with a great opportunity to come together as a class while also exercising many of the skills we have learned over our four years in ROTC," said Military Science Level IV and Cadet Battalion Commander Christian Burne. "Remembering and analyzing our military history at the Saratoga Battlefield showed us the many ways that the U.S. Army has evolved, and stayed the same, since our founding as a nation."
Cadet Headquarters Battery Commander Morganne Hedden noted that, "Working with Cadre on planning the Staff Ride and seeing it come together on the Battlefield of Saratoga was a very rewarding and insightful experience. My fellow Cadets and I learned about the techniques used during each battle and were able to relate it to our future careers in the Army."
To help the Cadets prepare for the Staff Ride they were presented a copy of the work Saratoga: America's Battlefield by authors Timothy Holmes and Libby Smith-Holmes. Each Cadet was required to prepare and present a briefing on one particular aspect of the battle as part of the event. Cadets and Cadre visited nine different key sites located across the National Battlefield, sites like the American Headquarters at Neilson Farm, the Balcarres Redoubt and General Burgoyne's headquarters. At each site Cadets delivered their respective presentations and fielded questions. Cadre prompted Cadets to think how the challenges facing military commands during this battle are applicable to the operating environment junior military officers face today. In addition to the tour of the battlefield the group viewed a 25 minute movie on the Battle of Saratoga produced by the National Park Services.
http://www.scranton.edu/news/royalnews/announcements/2013/09/24/military-science-cadets.shtml