Corporate Staff Ride NEWSLETTER - A Model of Local Staff Ride Development: Battle of Bushy Run (1763)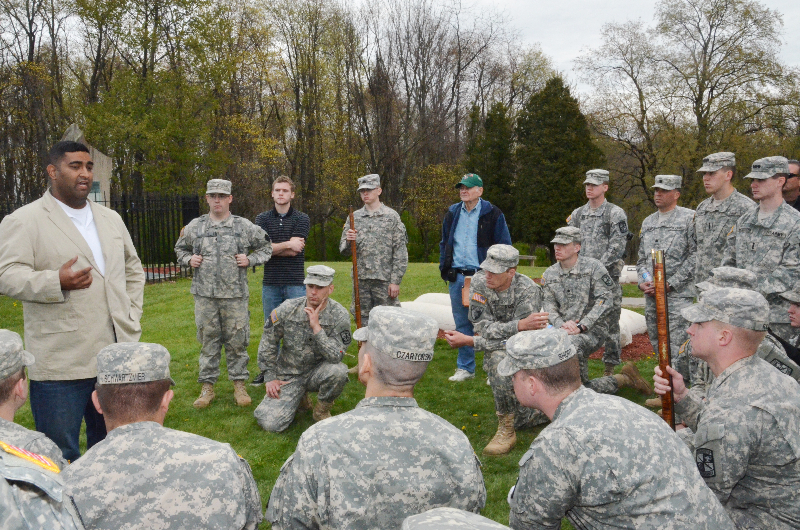 October 15, 2013
AUSA Fort Pitt Chapter's Professional and Leadership Development Staff Ride
CTC Sponsors AUSA Fort Pitt Chapter's Professional and Leadership Development Staff Ride
The Study of Historical Leaders during Battle Help to Demonstrate Effective Military Leadership Tactics
Through the efforts led by Kim Leach, Executive Director of Advanced Materials, Manufacturing and Engineering Solutions, CTC recently sponsored the Association of the United States Army (AUSA) Fort Pitt Chapter's Professional and Leadership Development Staff Ride. The program took place on the Battlefield of Bushy Run in Jeannette, Pennsylvania, on Saturday, April 14, 2012.
Efforts made by COL (RET.) Steven Patarcity, VP of Operations Fort Pitt Region AUSA, and special guest COL (RET.) Stan Crow, Assistant Director for National Guard affairs for AUSA and former Chief, Organizational Development Office National Guard Bureau, were the reason such an event was able to take place.
The purpose of this Staff Ride was to provide former and current U.S. Army leaders and supporters with the opportunity to continue to learn and develop professionally within their own leadership status and goals. This program focused on emphasizing the importance of studying and becoming more knowledgeable about historical leadership strategies and management skills. Examples of exceptional leadership and management skills were communicated using prior methods and key tactics displayed by the leaders of both sides that fought during the Battle of Bushy Run, 249 years ago.
The Battle of Bushy Run is a significant battle in the history of our country and cannot be overlooked as anything less than an excellent example of what strong leadership looks like. The victory in 1763 at the Battle of Bushy Run made possible for the settlement of Western Pennsylvania. The tactics used by Colonel Henry Bouquet to defeat the Native American unimpeded attacks was a small yet decisive turning point during the Pontiac's War and Whisky Rebellion, prior to the American Revolution. Through this program, attendees were able to dissect strategies and analyze war efforts that ultimately succeeded as well as those that failed.
"In all, the event turned out to be a great success enlightening both military and civilian leadership alike in the foundations of large group psychology and management," said Carlos Carmona-Torres, the Fort Pitt AUSA Chapter President. The Staff Ride provided leadership development information to about 60 military patrons from a variety of consortium such as the University of Pittsburgh ROTC, the United States Army Reserves and the Pennsylvania Army National Guard, as well as, AUSA corporate members and civilians.
CTC has been a sustaining member of AUSA since 2007, working closely with the Fort Pitt Chapter, which will be supporting CTC Showcase for Commerce in May. Approximately 50 CTC employees are members of a chapter within AUSA.
http://www.fortpittausa.org/ausa-fort-pitt-chapters-professional-and-leadership-development-staff-ride/