Corporate Staff Ride NEWSLETTER - Tunisia Staff Ride Draws Lessons from Earliest WWII Defeat & Victory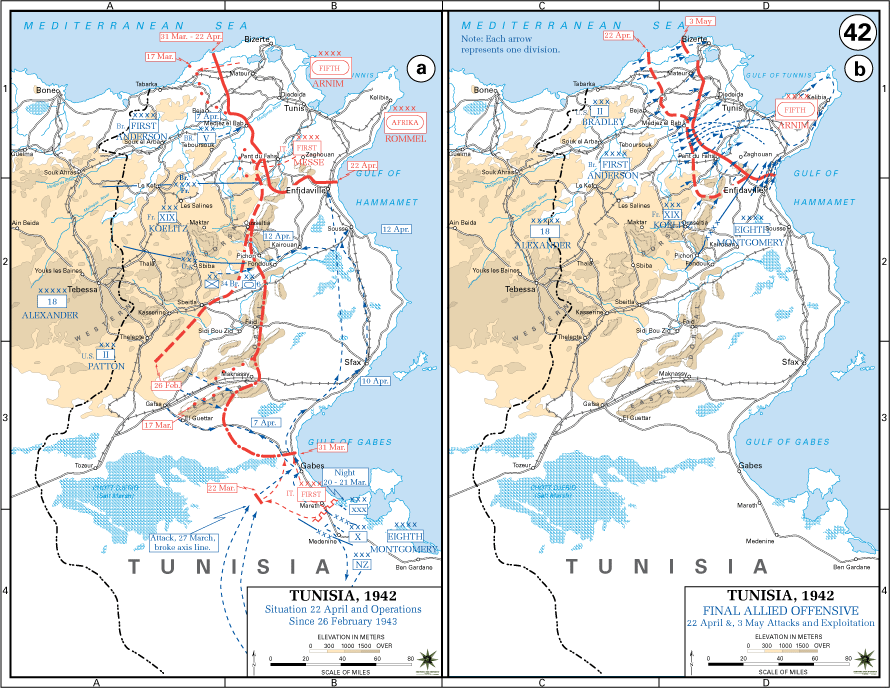 April 23, 2014
Tunisia Staff Ride - U.S. Army Africa soldiers apply WWII North Africa campaign lessons to current mission
By Rick Scavetta, U.S. Army Africa
KAIROUAN, Tunisia – Col. Stephen Mariano looked down into a foxhole carved atop a rocky hill top near El Guettar, where in March 1943, troops from U.S. Army II Corps battled German panzers.
Nearby, retired Army Col. Len Fullenkamp conjured tales of U.S. Army Rangers under Lt. Col. William Darby marching through darkness along a nearby ridge to surprise sleeping enemy infantrymen with fixed bayonets. Soldiers from the 1st Infantry Division hacked fighting positions from solid rock as enemy tanks rumbled into the valley. U.S. Army artillery units skimmed shells across the desert at approaching German armor.
Mariano began to wonder, "Had my grandfather dug one of these foxholes? Was his artillery position somewhere nearby? Did he fire on Germans coming through this gap?"
Mariano, 45, of Redlands, Calif., was among several U.S. Army Africa officers who took part in a four-day "staff ride," – onsite discussions of Tunisia's World War II battlefields geared toward finding insights into U.S. Army Africa's present challenge – building cooperative relationships with African land forces to increase security, stability and peace in the region.
In late 1942, U.S. forces landed in North Africa with British troops. Their first fights were with Vichy French units, who later joined the Allied cause. Together, they pushed east into Tunisia, where they clashed with German and Italian troops among craggy, cactus-covered hills and washed out wadis.
As a U.S. Army Africa's strategic planner, a look back at the alliance between American, British and French forces offered Mariano a glimpse at an international coalitions' growing pains and how friction between partners can doom a mission. On a more personal level, the staff ride allowed him to recapture his family's past.
Henry Mariano, Sr., was a sergeant with the 2nd Battalion, 62nd Armored Field Artillery Regiment who survived combat in North Africa, Italy and France before being wounded during the Battle of the Bulge in Belgium.
"This staff ride is a historic event, on a historic event, separated by 67 years," Mariano said. "To be here, where my grandfather was, is pretty powerful to me."
The tour began May 27 outside Sidi Bou Zid, where U.S. forces suffered a horrible defeat in mid-February 1943. They stopped for the evening in Gafsa, a city in Central Tunisia that changed hands between Allied and Axis forces several times during the campaign.
The second day, they focused on the Allied defeat at Kasserine Pass, followed by the U.S. Army's first solid gains against veteran German troops in the counterattack at El Guettar. The next day, U.S. Army Africa Soldiers ventured east to focus on British Gen. Bernard Montgomery's attempt to punch through Axis defenses at the coastal town of Enfidaville, roughly 40 miles southeast of Tunis.
Perched on a craggy knoll near Takrouna, Col. David Buckingham, U.S. Army Africa's senior operations officer, bent the spine of Atkinson's book, deep in thought about how for two days in mid-April 1942, New Zealanders came to death grips with Italian defenders in the limestone foothills outside Enfidaville.
Afterward, they paid respects to French and British Commonwealth troops buried nearby.
Tying this staff ride together with Memorial Day, taking time to better understanding leadership and feel the sacrifice of our soldiers, has been both poignant and educational," Buckingham said.
At each stop, officers thumbed through worn copies of Rick Atkinson's "An Army At Dawn," at their hip as Fullenkamp spoke of the bravery, heroics, ingenuity, lunacy and debacles of the North African campaign. After discussions, they poked through thorn bushes and cacti along the rocky terrain, searching for battlefield remnants.
At El Guettar, Maj. Gen. William B. Garrett III, commander of U.S. Army Africa, found a tin C-ration can and passed it to his senior logistics officer, Col. Mike Balser. Others found shards of shells and bullet casings. Lt. Col. David Konop, the command's public affairs officer, found a link from a 30-caliber machine gun belt.
It was hard to not be overwhelmed in the presence of such history, to walk this consecrated ground, Fullenkamp said.
Like the 34th Infantry Division, they climbed the hills near Fondouk Pass. They stood in the cold rain below Longstop Hill, just as the U.S. Army's 1st Battalion, 18th Infantry Regiment had when they relieved the 2nd Battalion of the British Coldstream Guards, around Christmas 1942.
The U.S. Army Africa tour wrapped up in the Tunisian capital, Tunis, the prize the Allies had fought seven months to pry away from German control. The Soldeirs took part in a May 31 Memorial Day ceremony at the North Africa American Cemetery and Memorial near Carthage, Tunisia.
All agreed that their experience in Tunisia was unlike walking the U.S. battlefield of Gettysburg, tracing the footsteps of Pickett's men from Spangler's Woods to the Emmitsburg Road. Nor was it like stepping from the shores of Normandy onto Omaha beach's Dog Green sector on D-Day staff rides.
This tour was focused on lessons the U.S. Army learned over the course of a seven-month campaign across North Africa.
"No one's ever done something like this, in this context, before. We're using the book 'An Army At Dawn' and we are an Army Service Component Command at dawn," Mariano said. "That's the connection. It's brilliant. "
Early on, Garrett challenged his staff to ask tough questions along the way and encouraged them to discuss tactical operations, but also look for insights into overall strategic goals. In North Africa, U.S. Army leaders found innovative ways to grow and succeed against often-insurmountable odds, he said.
"Talking about the past, in the present, that's what this is about," Garrett said. "This staff ride is simply a mechanism, a tool for helping us think about the challenges leaders faced in Africa during World War II and applying insights to our present focus."
http://www.army.mil/article/40340/U_S__Army_Africa_Soldiers_apply_lessons_of_WWII_to_current_mission/